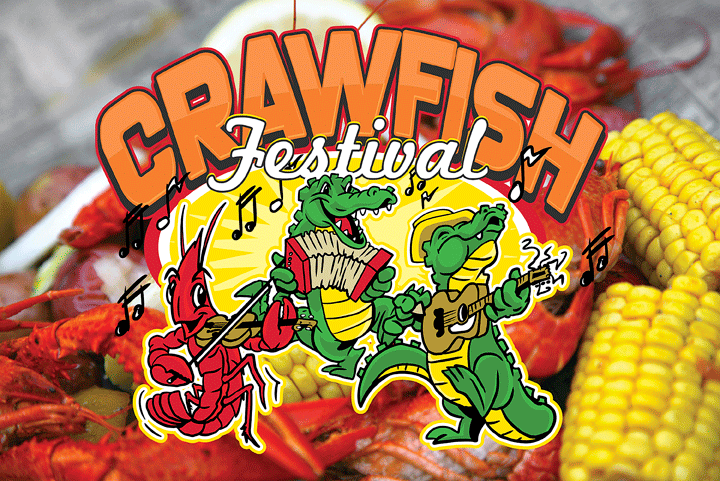 It's that time of the year again. Crawfish Festival serves up succulent scores of fresh seasoned Cajun crustaceans prepared to mouth-watering perfection in the world's largest crawfish pots. These crimson-colored, freshwater crustaceans are more tender than Lobsters and have a unique flavor. Master Chefs will prepare true, Louisiana-style crawfish (with all the fixings, of course). Get ready to indulge yourself all weekend long as you catch a whiff of other sensational aromas circulating through the air. You're sure to stumble upon a wide selection of New Orleans's most iconic dishes including Café du Monde-style chicory coffee and beignets, jambalaya, gumbo, red beans and rice, alligator, frog legs, and bread pudding, for starters. Once you've licked your plate(s) clean, plan to wash it all down with a mean margarita, fresh beer, or our signature drink the "Screaming Crawfish at our French Quarter-themed bars. Dance to rousing music and join the Second Line Parade, a historical New Orleans tradition where people dance with a celebratory spirit. The whole weekend is stacked with an outstanding lineup of Cajun, Zydeco, and New Orleans-style music acts to dance to on a huge dance floor. Dance lessons regularly throughout the day. To prepare for your musical debut on the streets of the French Quarter, consider singing your heart out in the Karaoke Lounge with a live band behind you. Be sure to check out the live cooking demonstrations, local artisans, live sports tent, the exclusive VIP Lounge/Private Cabanas, children's stage featuring magic illusion show (as seen on America's Got Talent), carnival rides, games and inflatable bounces. But, don't forget to get your FREE Souvenir E-Photo that is included in general admission to capture your NOLA experience. What are you waiting for? Let the good times roll!
When is It?
The official 2022 Event Hours are as follows:
FAT FRIDAY, May 20th — 5PM – 11PM
SATURDAY, May 21st — 2PM – 11PM
SUNDAY, May 22nd — 1PM – 9PM
How Much Are Tickets?
$5 Fat Friday General Admission
$5 Beers Available for Purchase.
$13 One-Day General Admission (Sat./Sun.)
Children under 12 Free.
DOES NOT INCLUDE: food, drinks, carnival rides, games or VIP Lounge.

DOES INCLUDES: Free Souvenir E-Photo, Live Music, Dance Floor and Lessons, Second Line Parade, Live Sports Tent, Children's Stage – Magic and Illusion Shows (Sat./Sun.), Inflatable Bounces, Live "New Orleans-style" Cooking Demos, Karaoke Lounge with Live Band (Fri./Sat. Night).
How much Is Food?
2LBS. Crawfish Feast Admission Bundle — $35

3LBS. Crawfish Bucket Admission Bundle — $43

5LBS. Crawfish Lover's Meal Admission Bundle — $60
All bundles include fresh live steamed crawfish, red baby potatoes, corn on the cob, and dipping sauce.

Photos of Food
Is there a VIP section?
VIP Lounge — $25 (Fri.)/$50 (Sat./Sun.)
Includes: a prime seat location with assigned seating under a canopy to keep you cool in an exclusive VIP area with all the amenities, all-day unlimited VIP access, complimentary beverage of choice, and front line privileges for meal line.

Private Furnished Cabanas are also available. More info: https://www.crawfishfestival.com/tickets

MAIN STAGE LIVE
There is entertainment the whole weekend. Here is the lineup for the main stage:
FAT FRIDAY, MAY 20TH
• RemiX
• David Sousa and The Zydeco Mudbugs
• KARAOKE LOUNGE – SING WITH A LIVE BAND on Second Stage

SATURDAY, MAY 21ST
• Brothers Igniting A Groove (B.I.G.)
• The Rhythm & Blues Revue
• Andre Thierry
• Ruben Moreno Zydeco
• KARAOKE LOUNGE – SING WITH A LIVE BAND on Second Stage
• Magic of Rafael Illusion Show (as seen on America's Got Talent) on Children's Stage

SUNDAY, MAY 22ND
• Stone Soul
• Fortunate Son – Tribute to Creedence Clearwater Revival
• Ruben Moreno Ft Bayou City Blues
• Bear Brass
• Magic of Rafael Illusion Show (as seen on America's Got Talent) on Children's Stage

FRI., SAT. AND SUN. (regularly throughout day & night).
• KLIQ Radio Station with DJ DiYs and DJ XX7 (DJ/Dance Lessons)
• Second Line Parade led by LALA Second Line Dancers and Bear Brass
• Second Line Parade Contest – WIN $50 CASH!
• Crawfish Festival Official Mascot
• Bayou Sunflowers "New Orleans style" Live Cooking Demonstrations
• CARNIVAL RIDES AND GAMES (Carnival Rides for Adults and Kids)
• COME JOIN THE CONGO LINE!

More Details: https://www.crawfishfestival.com/lineup
Save $2 off admission
See coupon below.