Yard House Introduces Five New Menu Items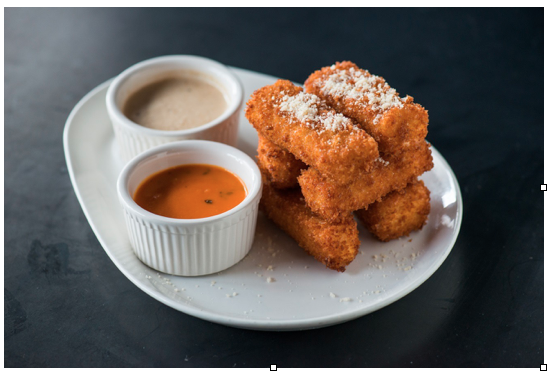 Grab a friend and head on over to your local Yard House Restaurant. The hip and modern restaurant has introduced five new menu items along with a half-dozen new cocktails and non-alcoholic beverages beginning May 1.  An great news for those who eat a Gluten-Free diet! there is a tasty new pasta on the menu!
Fried Mac + Cheese
It's the dipping sauce and texture that gives this classic dish a new and tasty twist.  The Fried Mac + Cheese, which is perfect for sharing and pairs well with craft beer, is formed into sticks and rolled in Panko bread crumbs then fried to a crisp golden brown. The dish is accompanied by organic tomato bisque and porcini cream sauce for dipping. 
Bucatini Carbonara
For the first time in its history, Yard House offers gluten-free pasta.  This Italian staple features a hollowed-out, gluten-free noodle that cradles an array of ingredients including pancetta, butternut squash and sage.  It's finished with a black pepper Parmesan cream sauce and topped with a fried egg. 
The Carnivore
A pizza like no other and one that is sure to appeal to those who are carnivores at heart, this shareable dish is layered with pepperoni, seasoned beef, spicy sausage and crispy bacon with mozzarella and classic tomato sauce.  Add a pint, goblet or half-yard of beer for a perfect pairing.
Strawberry Shortcake
Yard House takes this classic dessert and gives it a southern accent by replacing the more traditional sponge cake with a flakey buttermilk biscuit.  Fresh strawberries are topped with vanilla ice cream and whipped cream.
Blueberry Banana Crumble
Blueberry pie is elevated with plump berries tossed with bananas, brown sugar, butter and cinnamon and baked with butter crumble topping for a crisp finish.  The crumble is served with vanilla ice cream, dusted with powdered sugar and garnished with a sprig of mint.   
Caribbean Breeze
Consider this island-inspired cocktail a vacation in a glass.  Made with Cruzan Pineapple Rum and Cruzan Banana Rum, it includes aromatic bitters, house-made citrus agave blend, orange juice, fresh strawberries and is topped with Riondo Prosecco. 
Blackberry Smash
Cocktail smashes, known for their fruity flavor profiles, have been around since the first julep recipe appeared in Jerry Thomas' 1862 The Bon Vivant's Companion, or How to Mix Drinks.  Fast forward more than 150 years later with Yard House's interpretation that includes a blend of Svedka Raspberry Vodka and St. Germain Elderflower.  This version also includes orange bitters, house-made citrus agave blend, blackberry syrup, fresh lime and mint.   
Black Barrel Paloma
Hornitos Black Barrel Tequila coupled with Solerno Blood Orange Liqueur creates a unique flavor profile with house-made citrus agave blend, ruby red grapefruit juice and fresh lime.  The woody flavor takes the cocktail to an entirely different level with the grapefruit adding a hint of citrus to this tequila-based drink.
Non-alcoholic beverages, both just 100 calories, include the Sparkling Mango Berry Soda and the Sparkling Cucumber Berry Soda.
Yard House has also updated its wine list adding more quality wines at approachable prices with new vintages available by the bottle and glass.